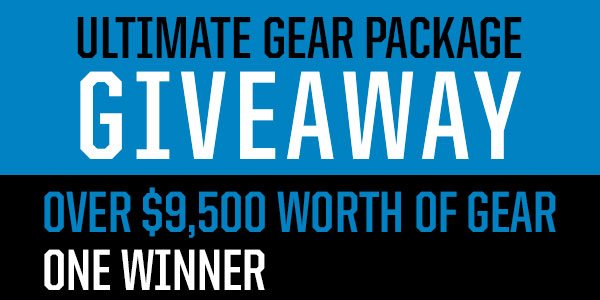 Want $9,607.11 worth of guns, gear, accessories, training, clothing and ammo? It can all be yours by entering here. That might be all you needed to know…but, here's more information anyway:
Personal Defense Network and I have teamed up with the cream of the crop companies in the shooting industry to bring you a prize package that contains almost $10,000 worth of guns & gear. If you win, you'll get lights, lasers, custom components for your new Springfield Armory® SAINT™ rifle, the latest version of the 9mm EMP (one of the only reliable subcompact 1911 models I've experienced…), a huge Cannon safe and a bunch of other great stuff, including: targets, tactical clothing, training DVDs and even ammunition!
Want the details?  
First, some of the fine print: You will be agreeing to receive newsletters from some great companies. Afraid of spam? Don't be. I suggest you sign up for this contest and then evaluate the content you receive. Even if you don't win this contest, you'll gain access to some great information and future contests, product news and sale announcements delivered directly to your inbox. If it turns out that you don't appreciate the email from a company or two, it's a simple One-Click Unsubscribe process to eliminate future communications. No big deal.
Second, you might live in a State that precludes you from owning some of the items being offered. Yes, that sucks. I assure you, I visit and/or offer training in your State and I'm right with you (and probably your State organizations) to help regain those rights you've lost. In the last year, I've taught in NJ, NY, CA, MA, CO and other states with various restrictions that go beyond current Federal Laws. We also have PDN Training Tour stops scheduled for those States again in 2017.  I also assure you that I  have (and will in the future) offer giveaway opportunities that are available to everyone.
Third, the rest of the fine print is available through the Contest Entry Page. Lawyers were involved.
Lastly, and this is the good part, It's gonna take you a while to read through this incredible list of prizes:
The lucky winner is going to need a secure way to protect all these prizes, not to mention the usual jewelry, cash, other valuables, and important paperwork.
The Cannon Premium Safe is the company's flagship model and is designed to provide maximum protection for your most treasured valuables. The MOLLE door organizer kit adds even more storage to this generously-sized safe, allowing you to place items that require frequent access. As for security, the Cannon Premium Safe features an EMP keypad that drives 12 four-inch locking bolts, patented Tru-Lock internal hinges, anti-pry tabs, and triple hard plates that protect the lock.
This safe carries a 90-minute fire rating and features a triple-fin smoke seal to help protect contents from fire and related damage. Backed by the Cannon Safe Lifetime Replacement Promise, this UL RSC rated safe series is the perfect solution for secure storage and organization of electronics, heirlooms, cash, paperwork, jewelry, firearms, and other valuables.
I have relied on Cannon Safes for years to protect the majority of my own firearms collection.
MSRP: $2,849.99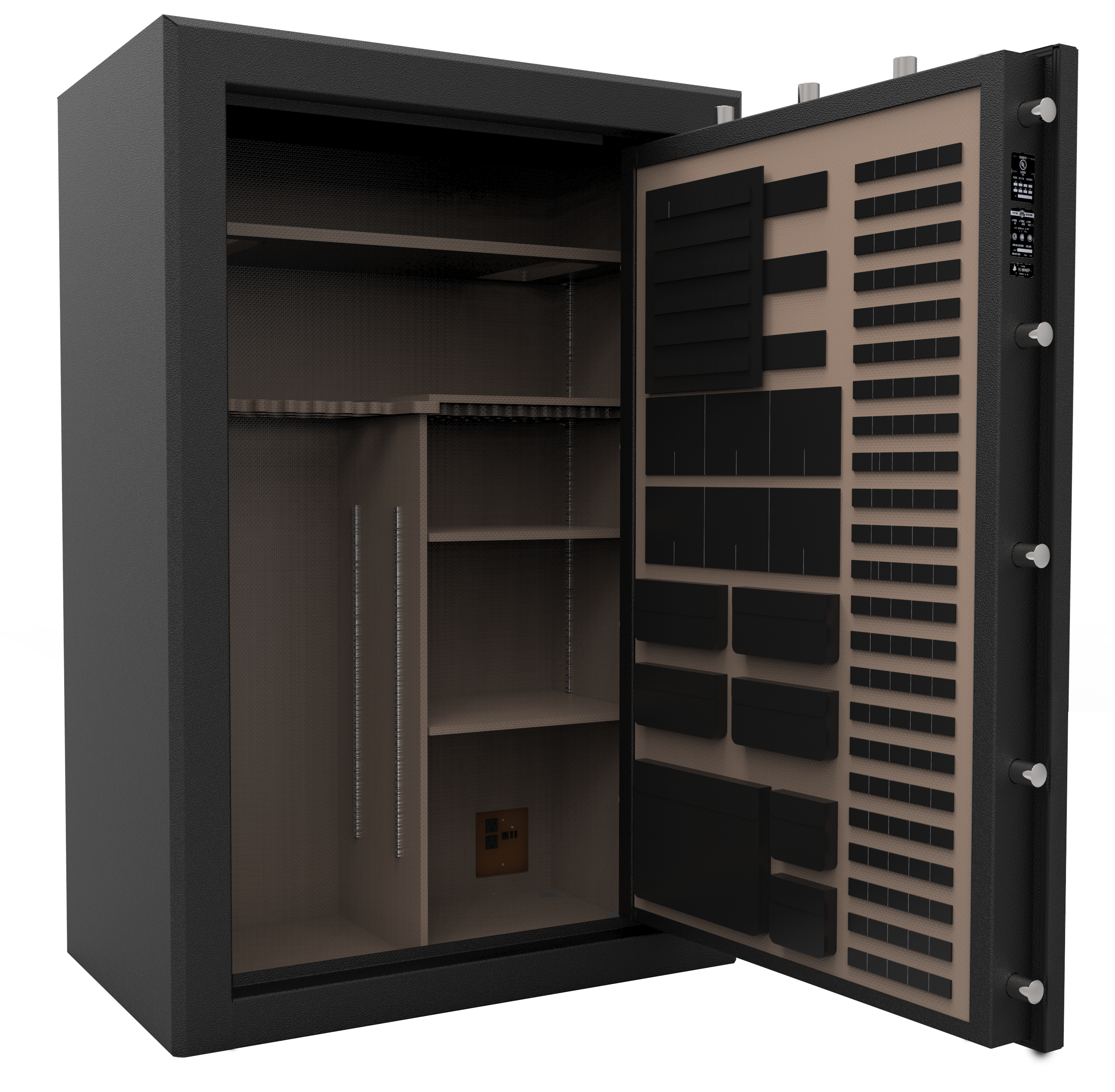 Have you seen the newest member of the world's most elegant carry pistol family, the Springfield Armory® EMP® Lightweight Champion™ with Concealed Carry Contour? There is no denying that it is an attractive firearm… and it is also a capable one. Unlike most subcompact 1911 style firearms, the EMP Family is one that has impressed me with its reliability time and time again in the hands of students who still chose to carry a 1911 style defensive handgun.
The all new EMP® 4" Lightweight Champion™ with Concealed Carry Contour model improves on the original by combining a longer barrel with a frame trimmed for ultimate concealment.  The new Concealed Carry Contour model features a four-inch, stainless steel, Match-Grade bull barrel with a fully supported feed ramp. That's housed in a forged stainless steel slide with an exquisite satin finish. The front fiber optic sight facilities instant sight acquisition while the low-profile combat-style rear sight ensures a smooth draw from concealment.
The EMP® Lightweight Champion™ with Concealed Carry Contour handles even better than it looks. Checkered black G-10 grip panels combine a slip-free hold with incomparable durability. Both front and rear strap frame surfaces feature smooth, but effective, Posi-Lock texturing pattern. Your EMP® will come packaged in a premium carry case with three nine-round magazines offering a loaded carry capacity of ten rounds of 9mm.
MSRP: $1,179.00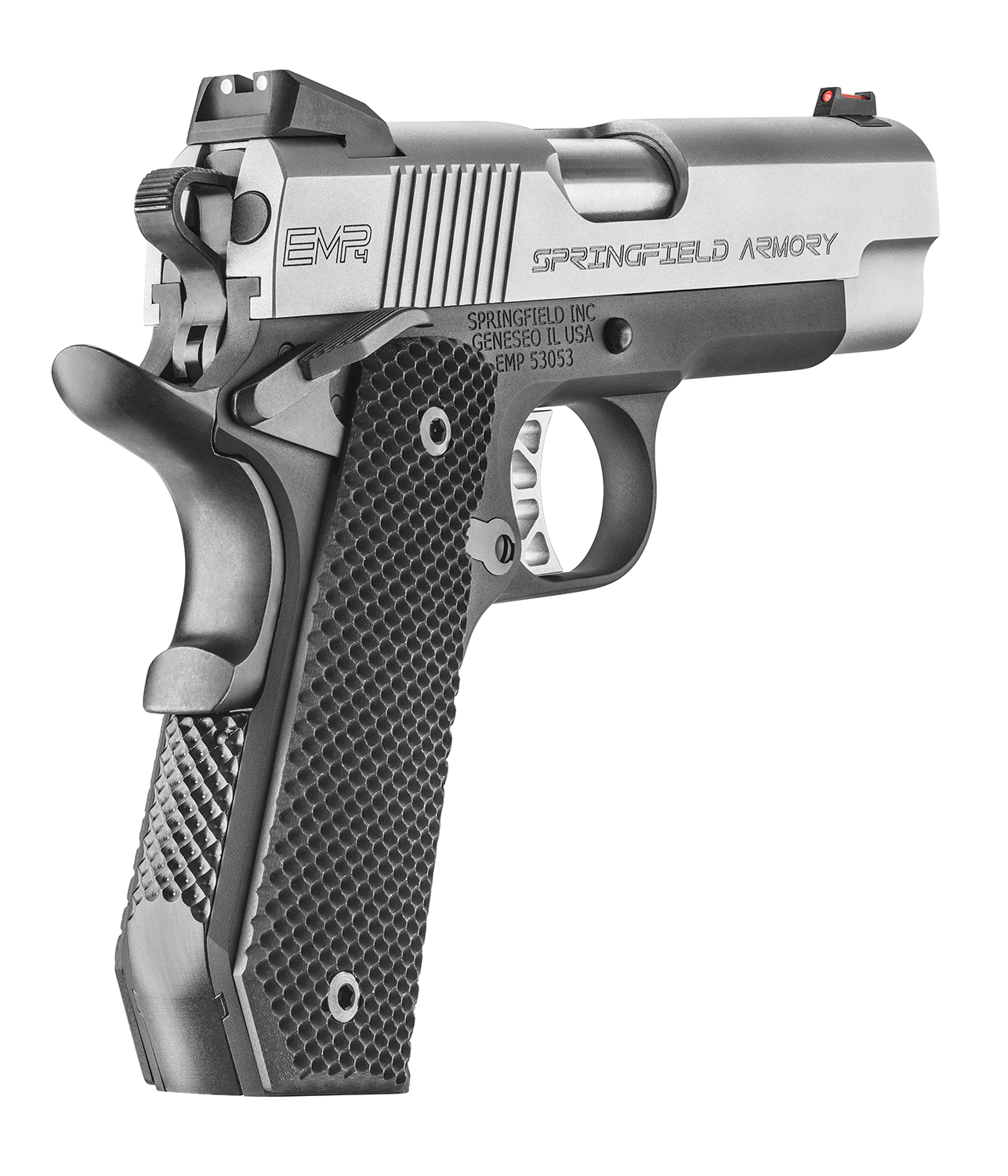 Like those who are unapologetic about protecting their legacy, the SAINT™ makes no compromises when it comes to features, engineering, and operator experience.  As the ultimate refinement of the AR-15 form, the SAINT™ combines innovations like the Accu-Tite receiver mating system with the relentless execution of core features.
The SAINT™'s flat top design is optics ready and includes a flip-up rear aperture sight and fixed A2-style front. The 16-inch Chrome Moly Vanadium barrel features a 1:8 twist rate to handle a wide range of bullet types. The operation of the M16 bolt carrier group is managed by a mid-length gas system paired with a heavy tungsten buffer, resulting in an exceptionally smooth action. A good shot starts with the trigger, so that's why the SAINT™ features micro-polished and Nickel Boron treated components. While it offers the right pull weight for defensive use, you won't feel it.
Unlike most defensive rifles in its price range, the SAINT™ includes top notch furniture designed to improve both shooting experience and operator performance. An all new, exclusive Bravo Company PKMT KeyMod handguard packs heat shields and flexible attachment points into a slim and easy to handle form factor. The Bravo Company buttstock is rattle-free and complemented by a Bravo pistol grip designed to improve defensive performance.
Built for the free and independent, Springfield Armory®'s SAINT™ represents the next generation of America's personal defense rifle. Built with relentless dedication to reliability, it'll be ready when you are because you can always trust the SAINT™.
MSRP: $899.00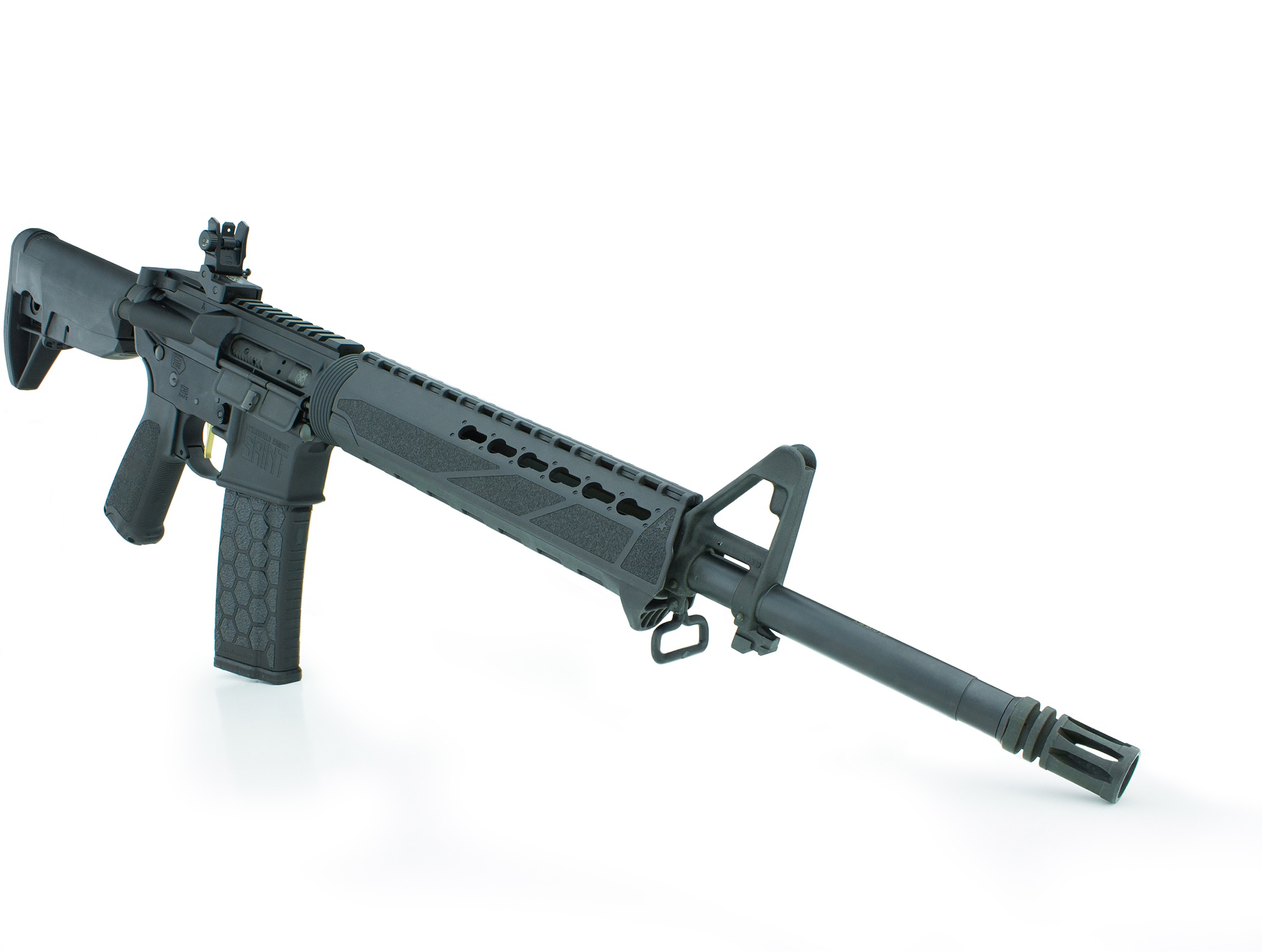 The beautiful thing about AR-15 rifles is that you can customize yours to your unique preferences. That's why Hexmag is offering up a slew of gear to outfit and shoot your new SAINT™ rifle or any other AR that you own. You'll get two Hexmag Advanced Tactical Grips in black and flat dark earth, two sets of Hexmag Grip Tape in black and gray, two Hexmag Keymod Rail Guards in black and gray, and 12 Hexmag magazines (three each in black, flat dark earth, gray, and olive drab.) Oh, and you'll also get a complete set of the HexID color coding system to help keep your loaded mags organized.
MSRP: $378.25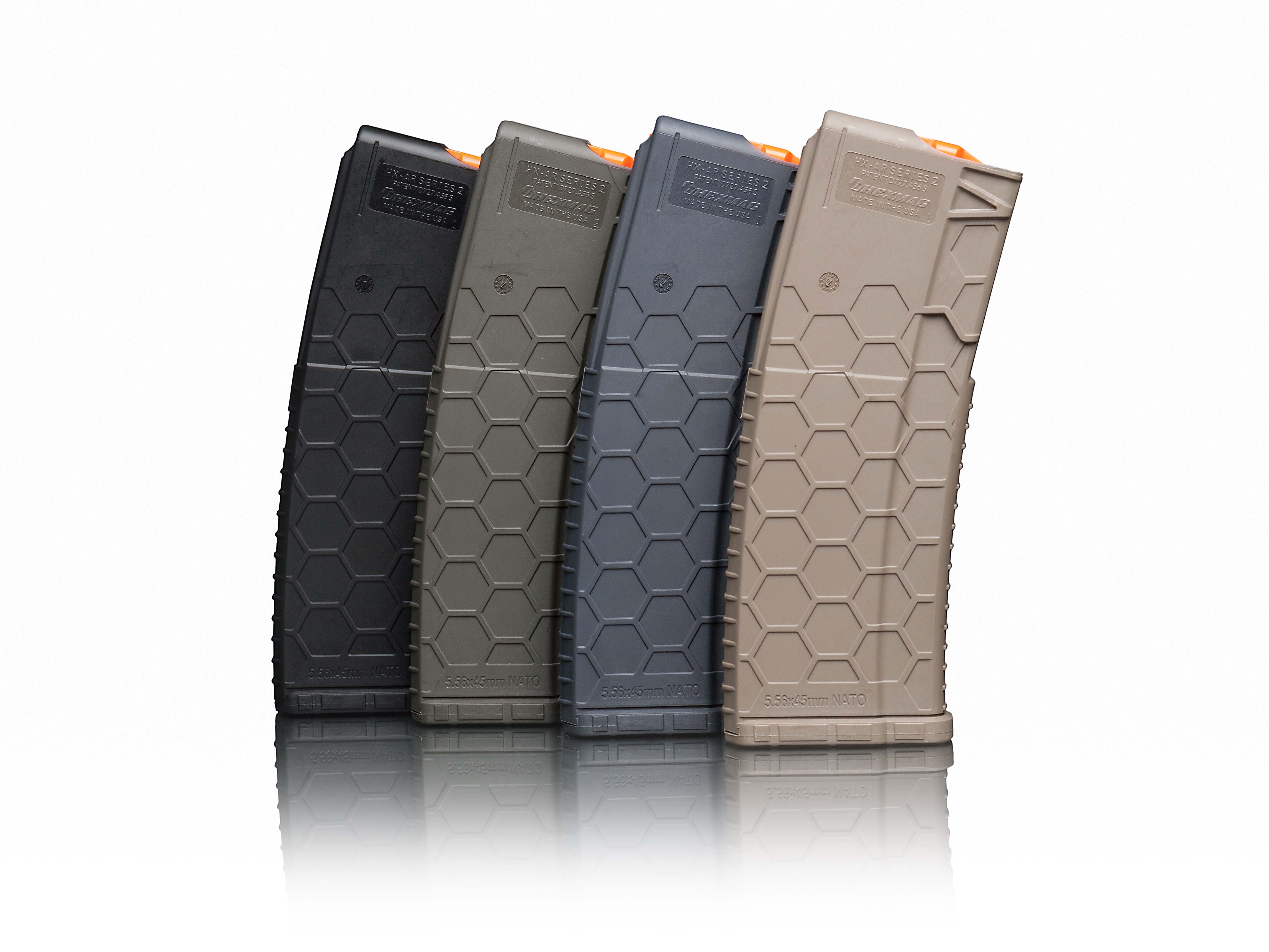 Concealed carry belts work hard for their money. They've not only got to support the weight of a gun through extended wear and abuse, but they also have to accommodate varying sizes when used without a gun, with an outside-the-waistband setup, and with an inside-the-waistband rig.
The Crossbreed Crossover belt features a special sliding buckle – that's right, no holes. That mean you can adjust the belt easily when you take your Inside-the-wasitband gun off or put it on. Of course, being a CrossBreed, you can count on the Crossover Belt to serve admirably for many years, and the 1/4"-thick leather is cross-grain matched, beveled, and stitched to provide a solid platform for concealed carry.
MSRP: $89.95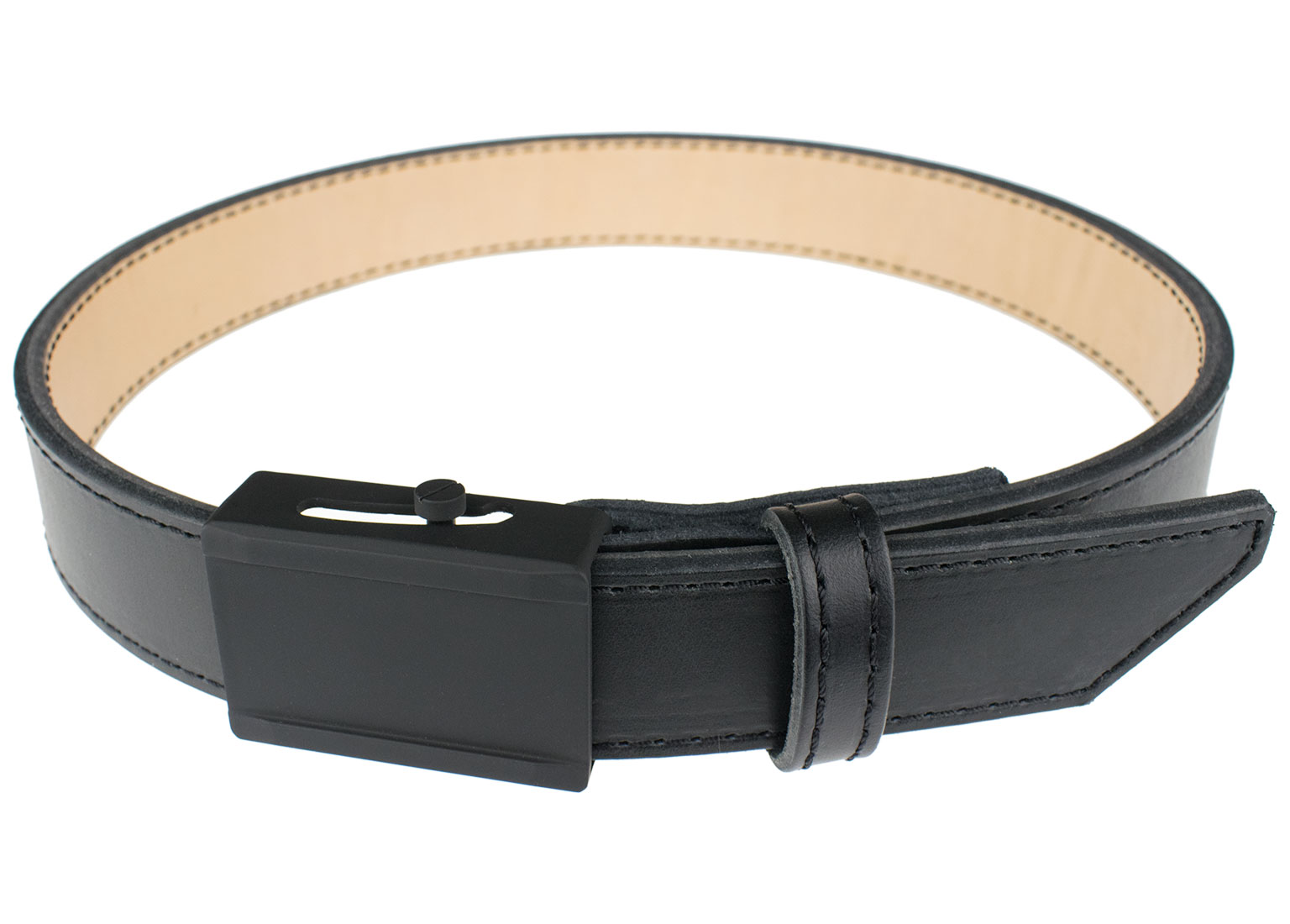 If you're going to carry concealed, why not use the inside-the-waistband holster that launched the hybrid revolution? The CrossBreed SuperTuck Deluxe marries a Kydex shell hand molded to fit your specific firearm to a large leather back panel. This best of all worlds approach provides stability, a thin profile, and reliable gun retention with a smooth and consistent draw. Versatile clip options allow you to use the CrossBreed SuperTuck Deluxe with or without your shirt tucked in.The revolutionary CrossBreed SuperTuck is  probably the most comfortable and concealable inside the waistband (IWB) holster that you'll ever wear.  For years, I have heard this from students time and time again… students who wear the Super Tuck every day and also wear them in defensive firearms classes that can involve hundreds of presentation repetitions a day.
MSRP: $69.75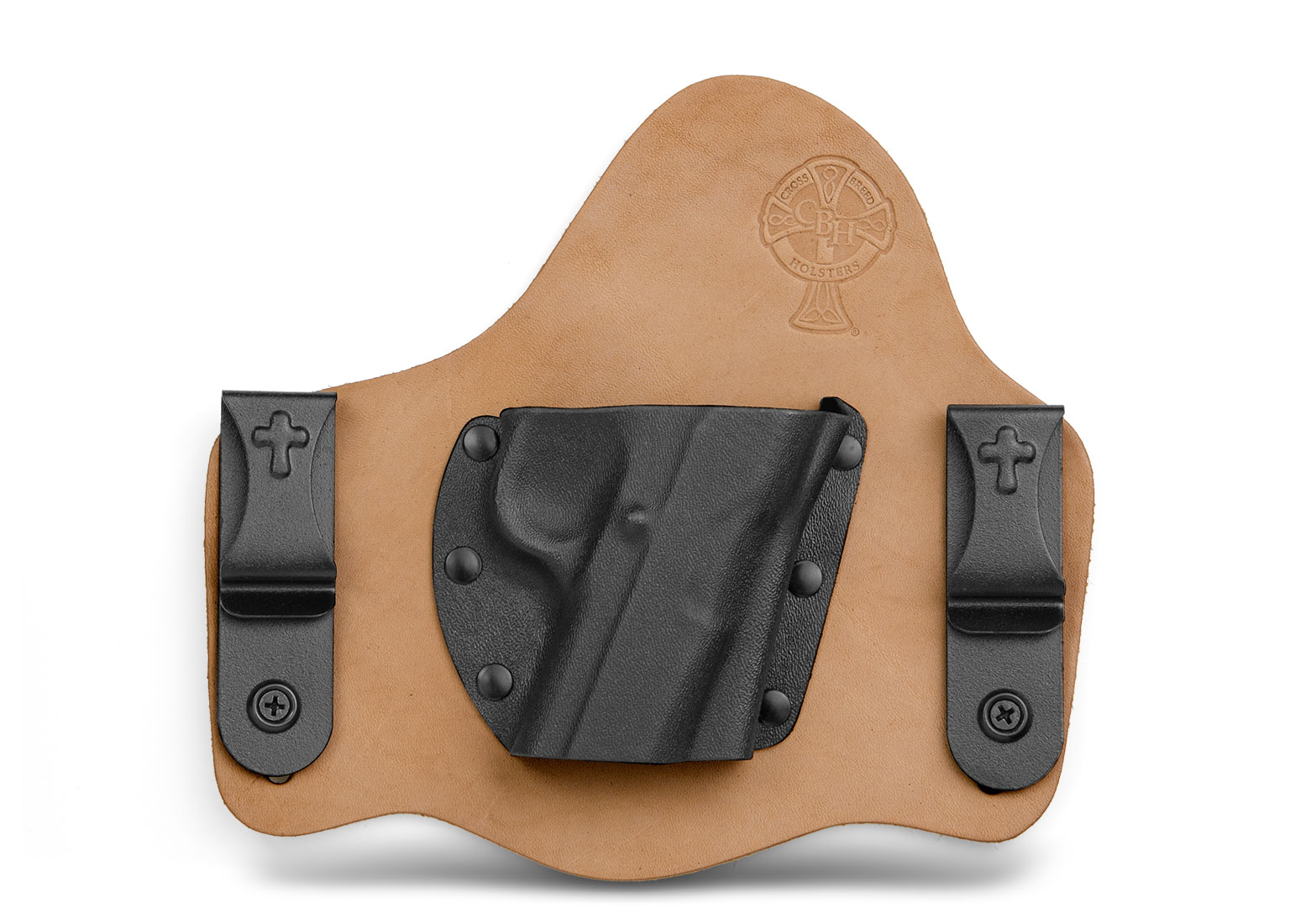 When it's time to turn in, you need a place to store your home defense gun that's accessible and consistent. The Bedside Backup offers a modular and secure method for keeping a firearm within easy reach at your bedside. Its main support panel simply slips between the mattress and box springs, and the OHAI holster attaches via Velcro fastener. The BedSide Backup also folds flat for easy packing and traveling. If you don't have to worry about unauthorized access to a defensive firearm while you are sleeping, this a great staging option. I have personally used the Bedside Backup to stage my own defensive handguns in a variety of situations over the years.
MSRP: $73.95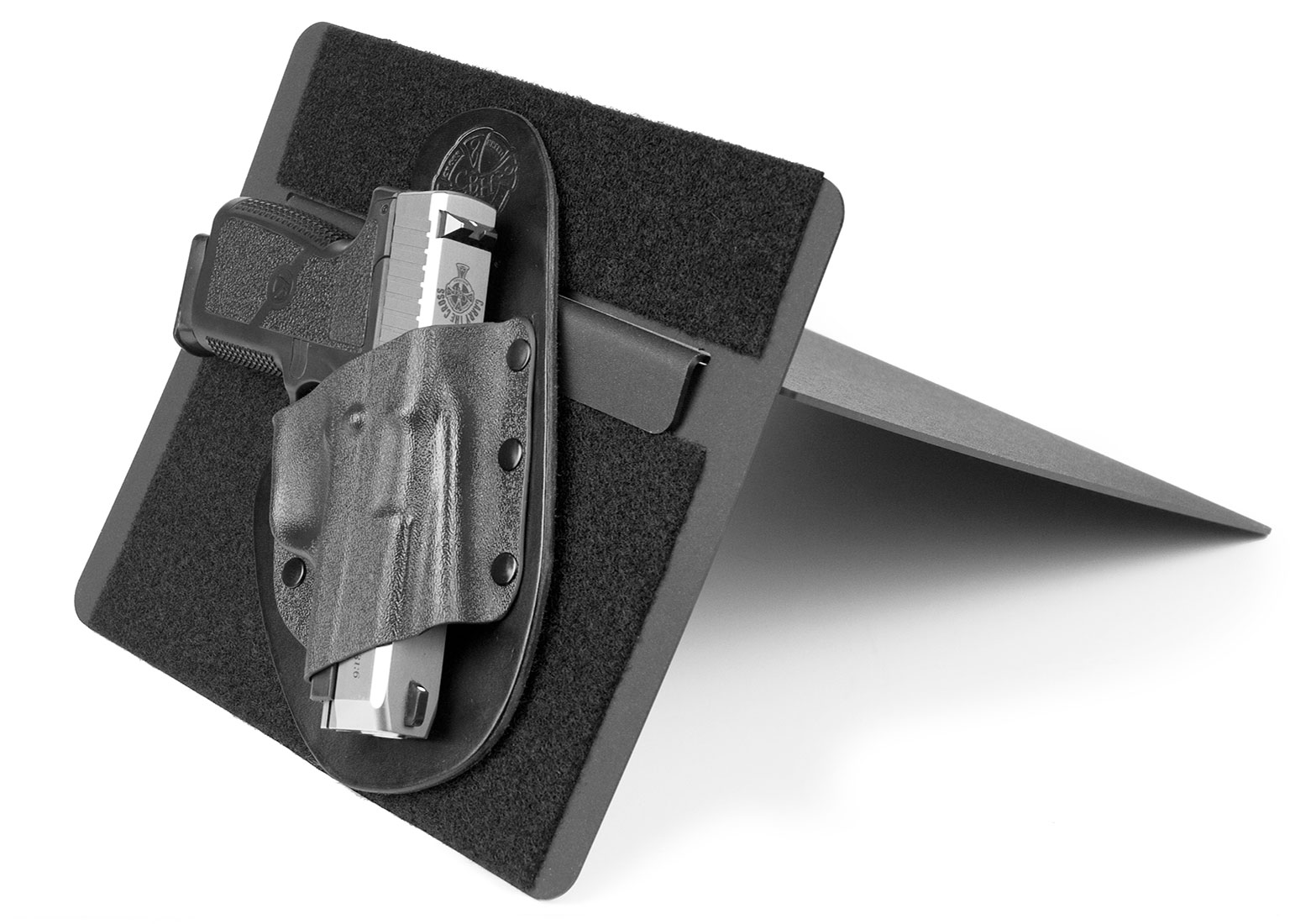 Pocket carry is convenient but making sure your magazine is consistently accessible can be a challenge. The Gideon Mag Carrier keeps your spare magazine positioned perfectly and ready for use.
MSRP: $24.95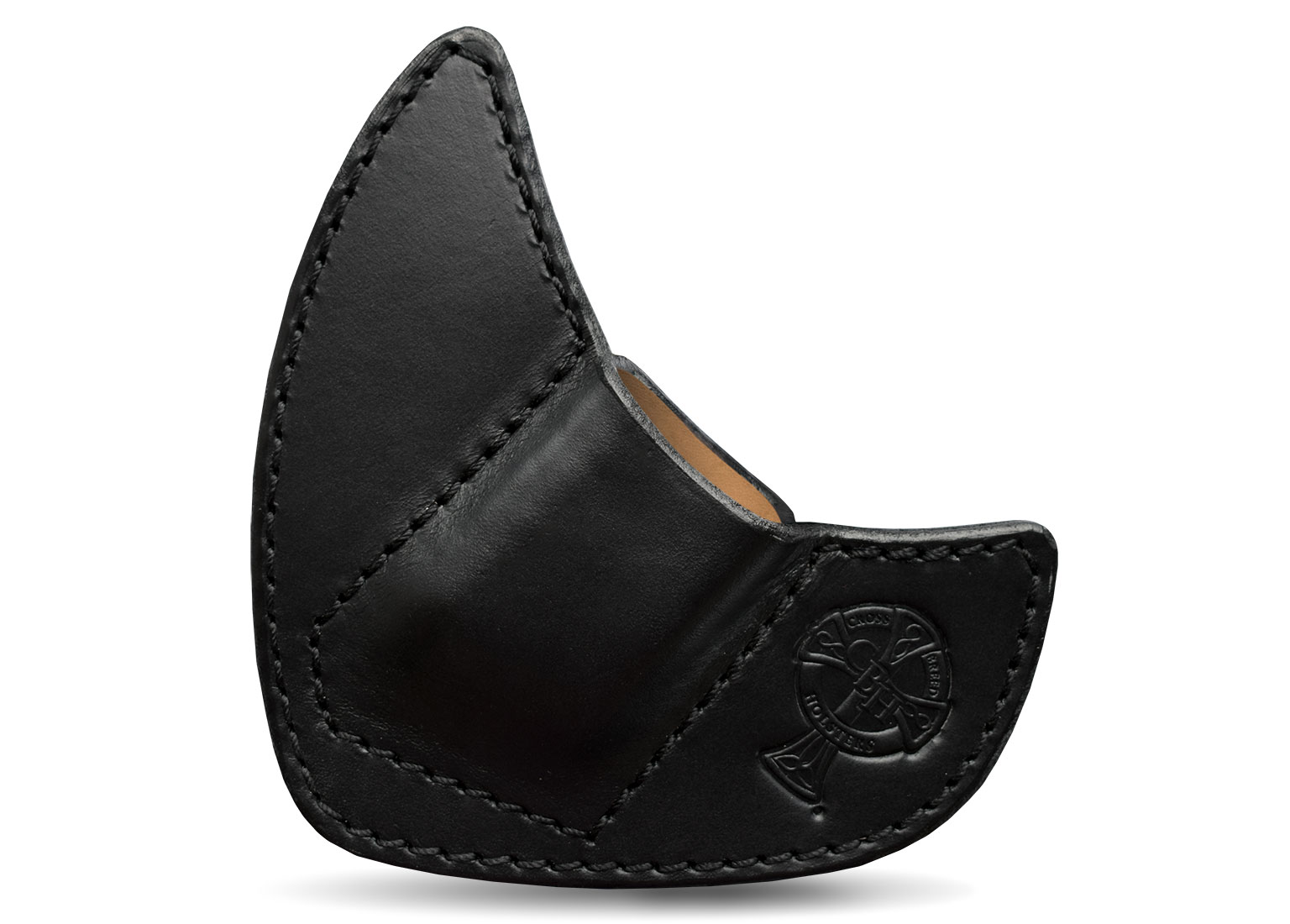 For casual attire, competition, or training to practice your new skills acquired from the Personal Defense Network and GunTalk Knowledge Vault, you'll want a solid gear belt. That's why we're also including the CrossBreed Reversible Nylon Belt. This 1.5″ dual layer nylon belt is constructed of rip-resistant nylon with five rows of stitching to provide needed support when concealing.  The Reversible Nylon Belt has a non-metallic buckle which makes it perfect for corrections, security, and travelers.
MSRP: $21.95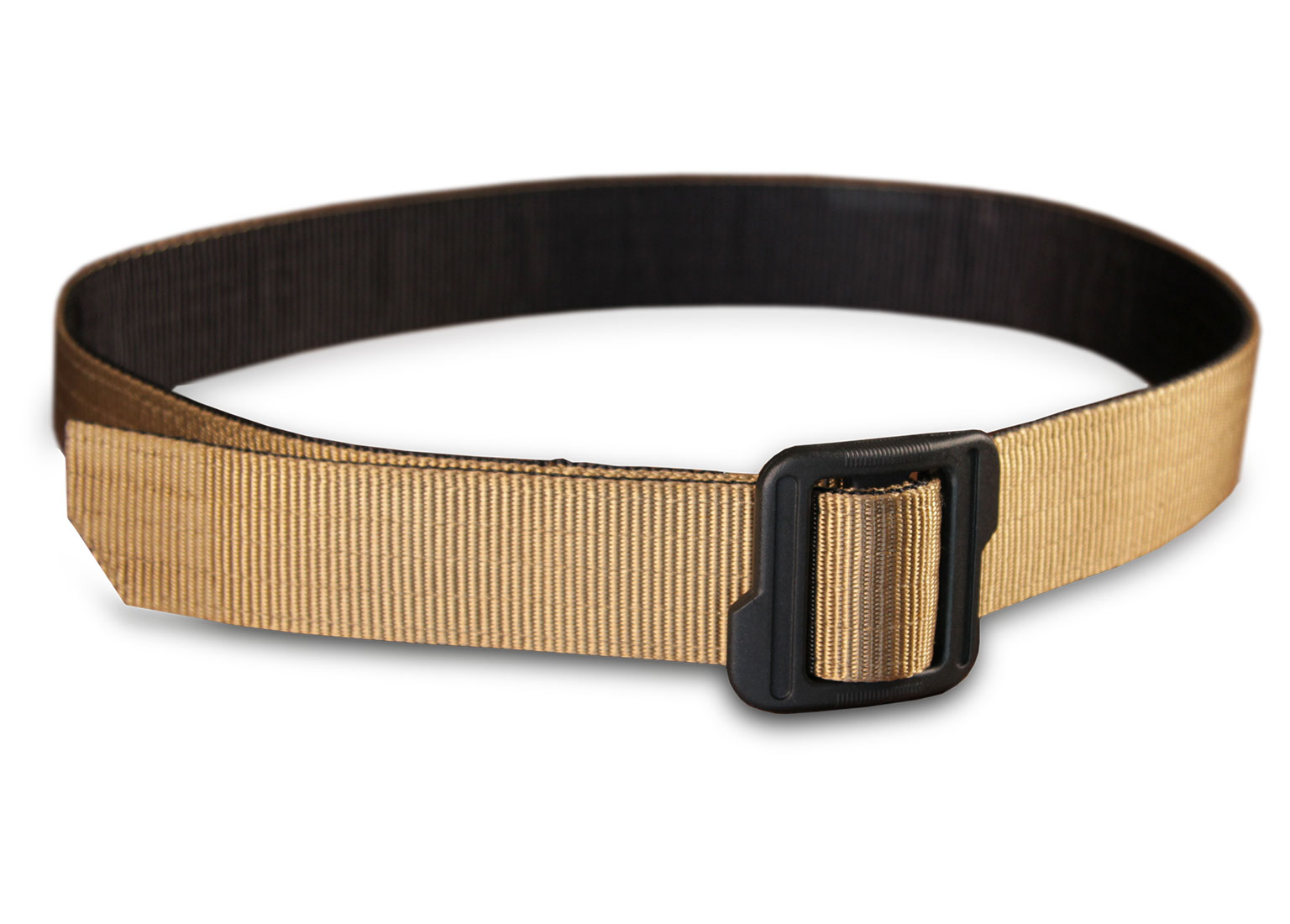 In these days of everyone spying on everyone, it's important to have the option to protect your gear from the elements and to safeguard your privacy. The Ark Resister Bag by CrossBreed offers superior electronics protection that significantly exceeds all military requirements for EMP and static discharge resistance including the stringent standards of MIL-PRF-81705. Previously available only to the military, the Resister Bag can also be used to line a case and serve as a Faraday Cage for sensitive and valuable electronic devices. When heat sealed, the Resister Bag is also waterproof, dustproof, corrosion, and puncture resistant. Bag dimensions: 19.5″ x 22"
MSRP: $19.95
You can have a ton of fun with a little head-to-head competition on the range! The PT Dueling Tree has six reactive paddles designed to swing from one side to the other when hit. Your goal sounds simple but will test your skills to the limit: knock the paddles to your shooting buddy's side while they're trying to do the same. Because it's made of 3/8" AR550 armor steel, the PT heavy duty Dueling Tree is designed for handgun ammunition and rifle ammunition below 3,000 fps. The PT Dueling Tree consists of a forward-leaning center stand which allows gravity to do the work as the six reactive armor steel paddles swing from one side to the other when shot. Of course, it's not all just fun & games, you can use these center-of-the-head sized targets for your defensive shooting training and practice as well.
MSRP: $499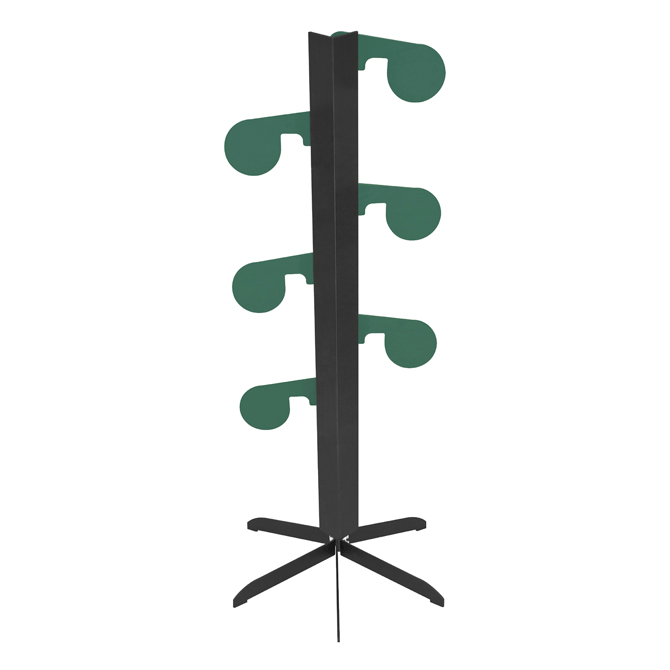 Get to work developing your Defensive Shooting Skills  with this 45 Degree Static Target. With an AR550 armor steel head plate slanted at 45 degrees, this target is specifically designed for shooting rifles at close distances. Most steel targets, even those made of AR550 armor steel, don't stand up well to the power of rifle ammunition when shot from distances closer than 100 yards. The 45 Degree Static is perfectly capable of handling .223, .308, and even slugs, giving you greater training freedom in a smaller area. The head plate is 14" tall and 12" wide making it elliptical in shape, but the steep slant makes it appear perfectly round to a shooter standing 50 yards away. Be sure to take a look at our PDN video on Training with Steel Targets to get more ideas about how to use this plate to safely train and practice!
MSRP: $214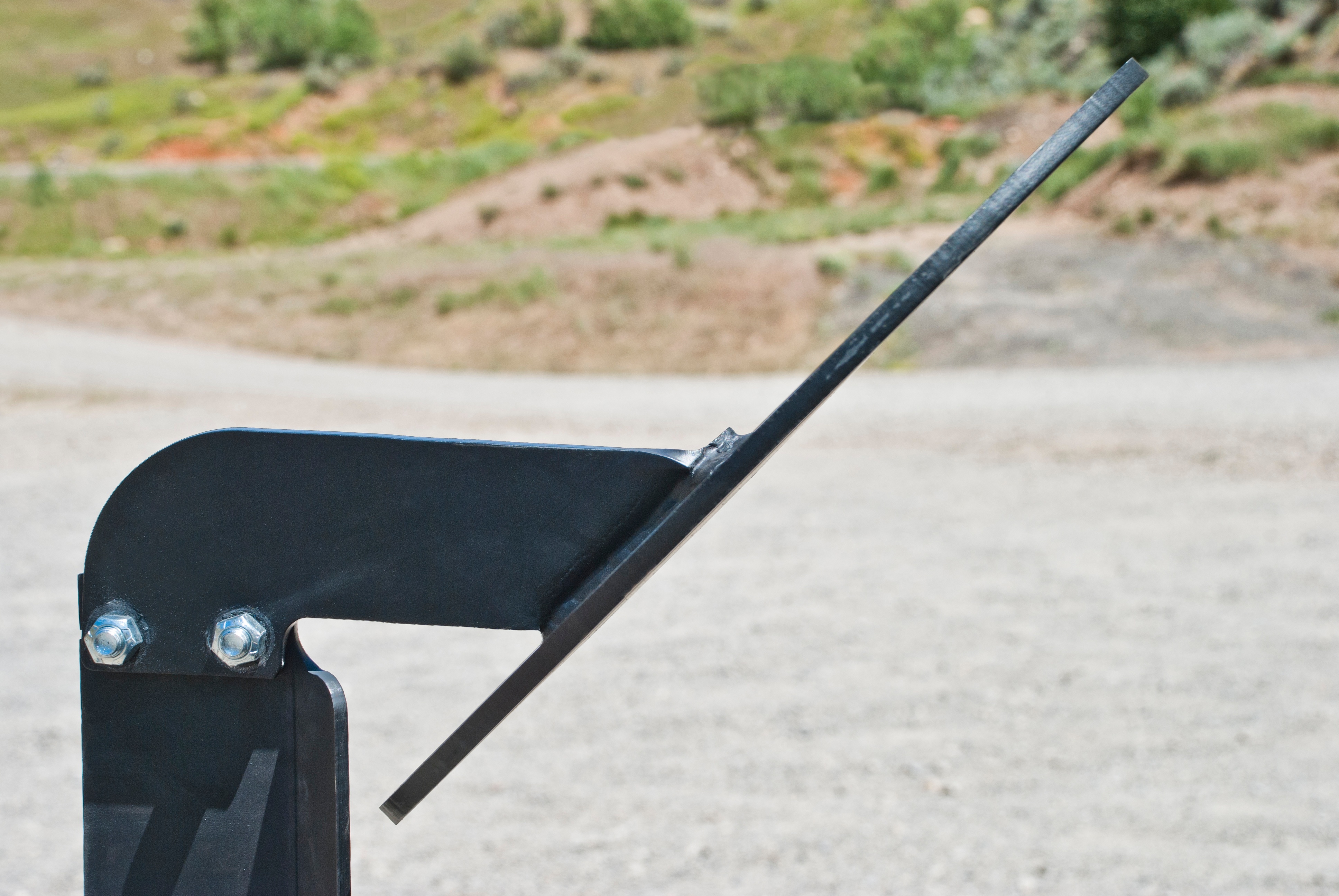 Gear up your home defense rifle with the 2017 Golden Bullseye Accessory of the Year, the Crimson Trace LinQ Wireless Laser and Light. LinQ is the world's first wireless laser & white light system, combining a green laser sight and 300-Lumen LED white light with Instinctive Activation for AR-Type Modern Sporting Rifles and AK-Type Rifles. The secure wireless link between the grip controls and forward module eliminate wiring that can snag on gear.
The Crimson Trace LinQ offers four modes of operation: laser and light, laser only, light only, and laser and light strobe.
MSRP: $649.00
The CMR-202 Rail Master Universal Tactical Light is a powerful instantly activated weapon light for Picatinny or Weaver rail-equipped pistols, rifles, and shotguns. The 100 Lumen LED White Light provides 2 hours of run time on (1) CR2 Lithium Battery.  Activation is easy, with ambidextrous switches, and the light features an Auto Shut Off feature to preserve battery life.
MSRP: $169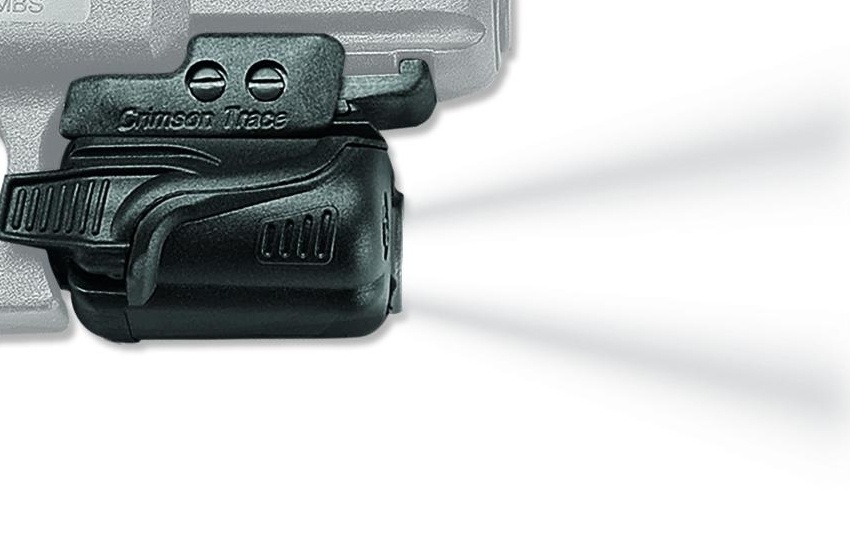 Within the Gun Talk Knowledge Vault Prize Pack, you'll train alongside VATA Group's Greg Lapin and Destin Mounts in the Concealed Carry I and Concealed Carry II DVDs, and Shootrite Firearms Academy's Tiger McKee in the Fighting with the 1911 DVD, as they walk you through training techniques from beginner to advanced. Grab a front row seat to real-world scenarios and our good guy's reaction in the First Person Defender – Season 1 DVD. Then delve into the mental and physical aspects in McKee's training diary, The Book of Two Guns (which is a very fun and informative read, by the way!), sit around the campfire with sportsman Grits Gresham as he weaves his tales in Grits on Guns (book), and get inside the head of Roy Weatherby in the book Weatherby – The Man. The Gun. The Legend.
MSRP: $184.85.
If you're serious about shooting AR rifles to peak performance, you'll want this American Trigger Gold Flat Trigger system used by some of the world's best shooters. The AR Gold has been proven to be the ultimate AR Platform trigger for military, LE, competition, hunting and more. The AR Gold is a drop-in module trigger that comes stock with a 3.5-ound pull weight. More than just the light weight pull, the trigger has the shortest reset and cleanest break than any other trigger on the market. If that isn't enough, it is also drop-safe.
MSRP: $279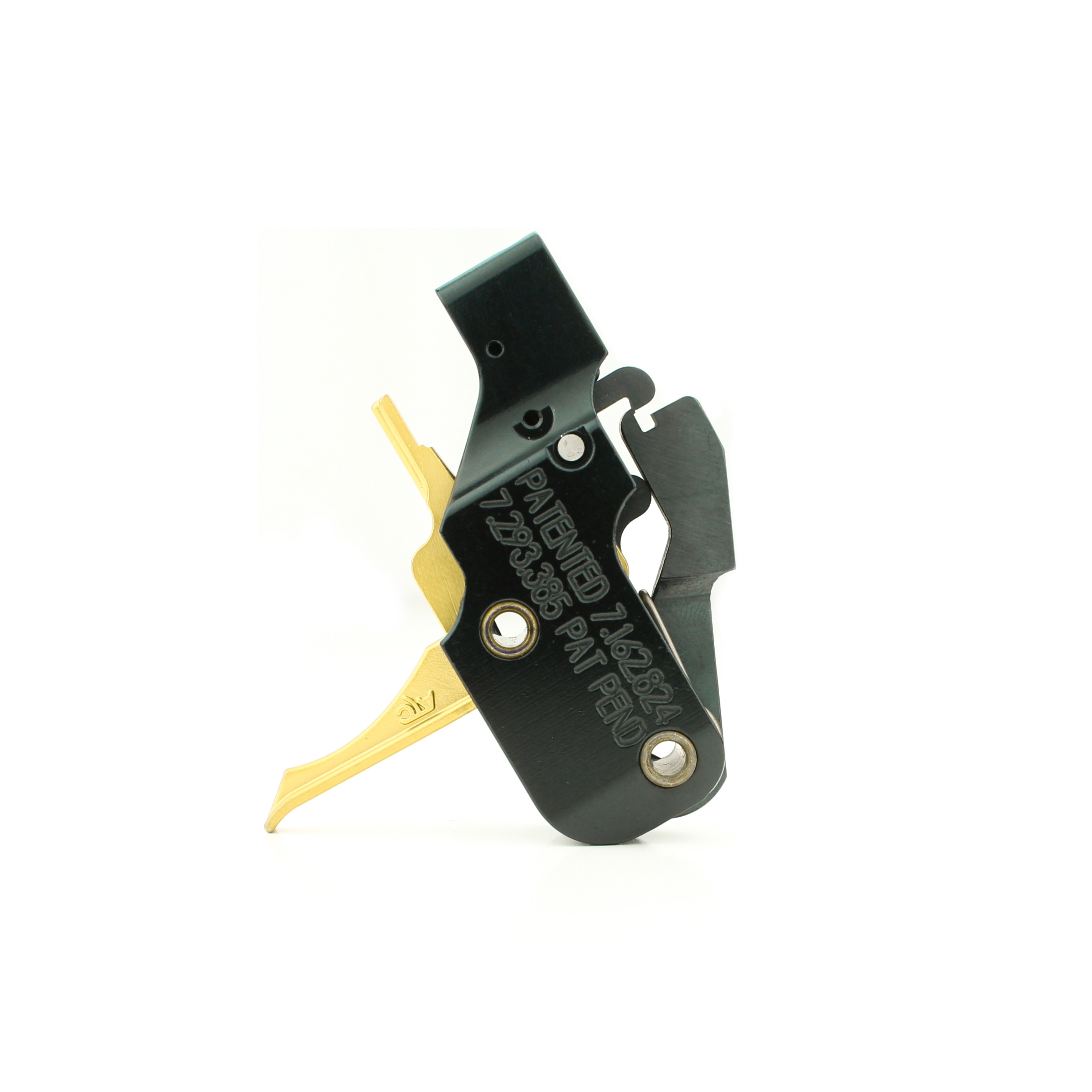 The Gold Membership Package from the Personal Defense Network will help you learn vital defensive skills and techniques. You'll get automatic member pricing on DVDs, books, and downloads averaging 50-60% off normal price. You'll also get 24/7 access to premium training videos, a bi-weekly newsletter, and an 11-hour bundle of instant bonus downloads. Oh, you'll also receive 2 PDN Academy Classes. Here's your opportunity to learn from what I believe is the best team of Contributing Instructors available at any website. As a Gold Member, you'll have exclusive opportunities to interact with us as well through Live Events, Discussion Forums and Private Q&As!
MSRP: $89.95 
Protect yourself in the instance of a dynamic critical incident with several hours of personal defense, firearms training, and instructional videos. This is a great collection of DVDs from our team of Expert Instructors and I. You'll learn about important topics such as vehicular defense, home defense firearms, hand-to-hand combat, scenario training and more. I personally selected this collection of titles to serve as a comprehensive defensive firearms training set, with a whopping 808 minutes of valuable content!
MSRP: $149.99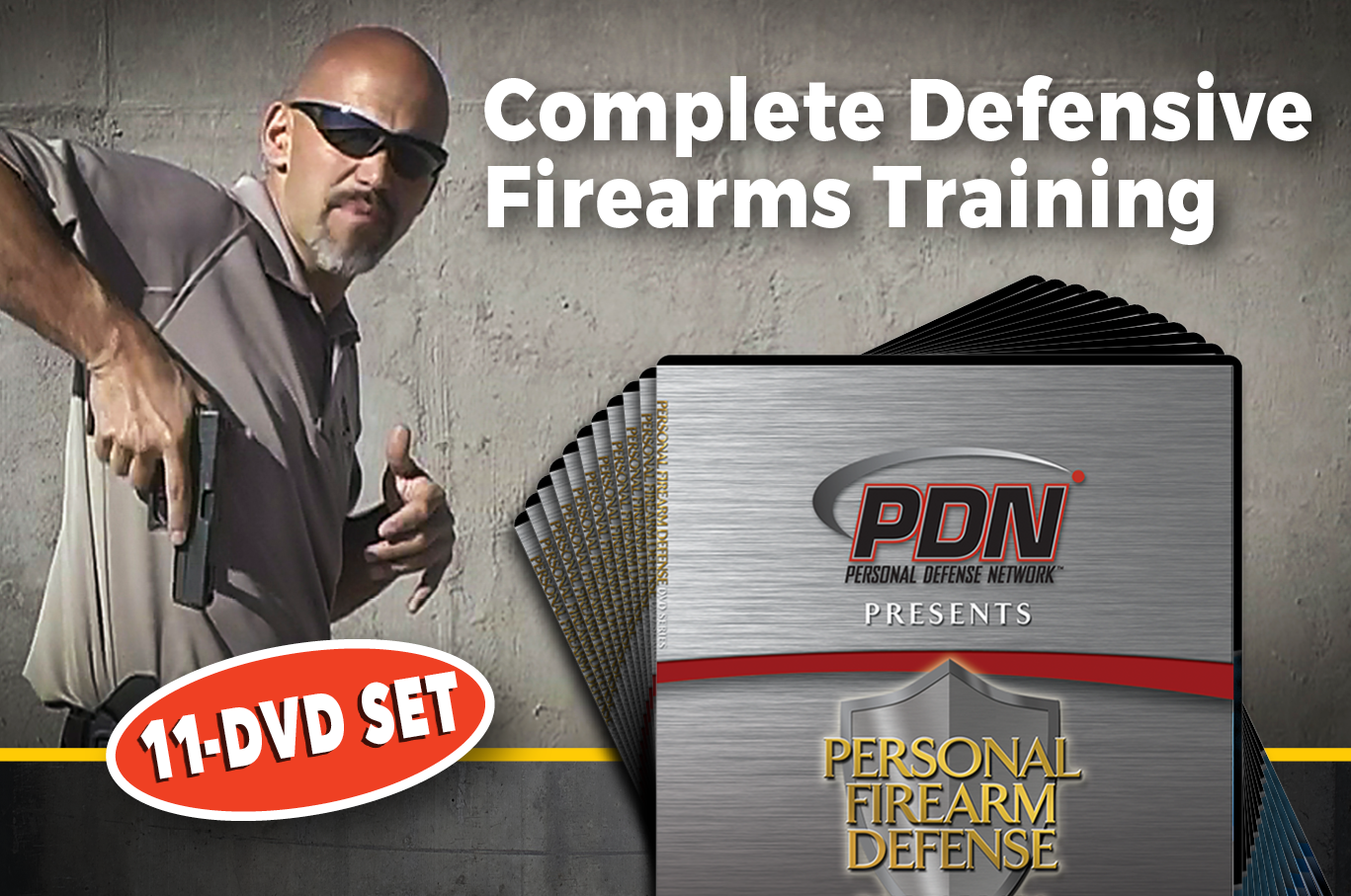 Over 50 years ago, the folks at Propper began supplying the U.S. Navy with those iconic white Dixie Cup hats. Now, you can own genuine Propper tactical clothing & gear too. The winner will receive a men's or women's Snag Free Polo, a pair of Series 100 8" Waterproof Side Zip Boots, a BA Softshell Duty Jacket, and Expandable Backpack, a 720 Belt, a Hood Fitted Knit Mesh Cap, socks, and a pair of Kinetic Pants.
MSRP: $500.92
The PACT Club Timer III is the gold standard for competitive and training use. It automatically measures your shooting times by listening for shots. Not only will it tell you elapsed time from the buzzer to the last shot, but it also the measures time between shots. You can also use the PACT as a par timer to set maximum times to complete a task.
Timers can be a lot of fun to use on the range and are a required part of just about any gun game, whether its a sanctioned match or a simple contest between friends to see who buys the beverages after the range session.
MSRP: $129.95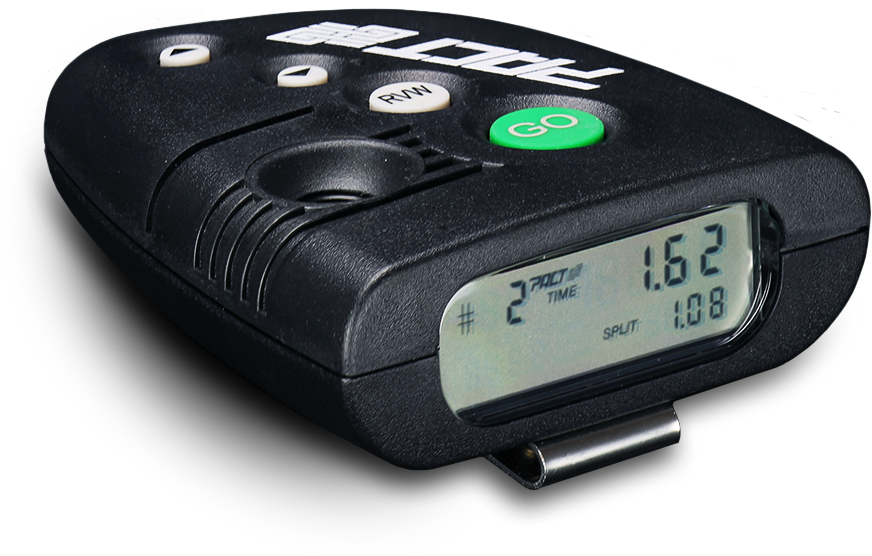 Let's get practical here. The very first thing you're going to want to do when you win this truckload of guns and gear is head to the range. For that, you need ammo and lots of it. No worries, the folks at Freedom Munitions have you covered.
Included in this prize package are 1,000 rounds of 9MM 135-grain ProMatch ammo and 1,000 rounds of 223 55-grain FMJ ammunition.
MSRP: $762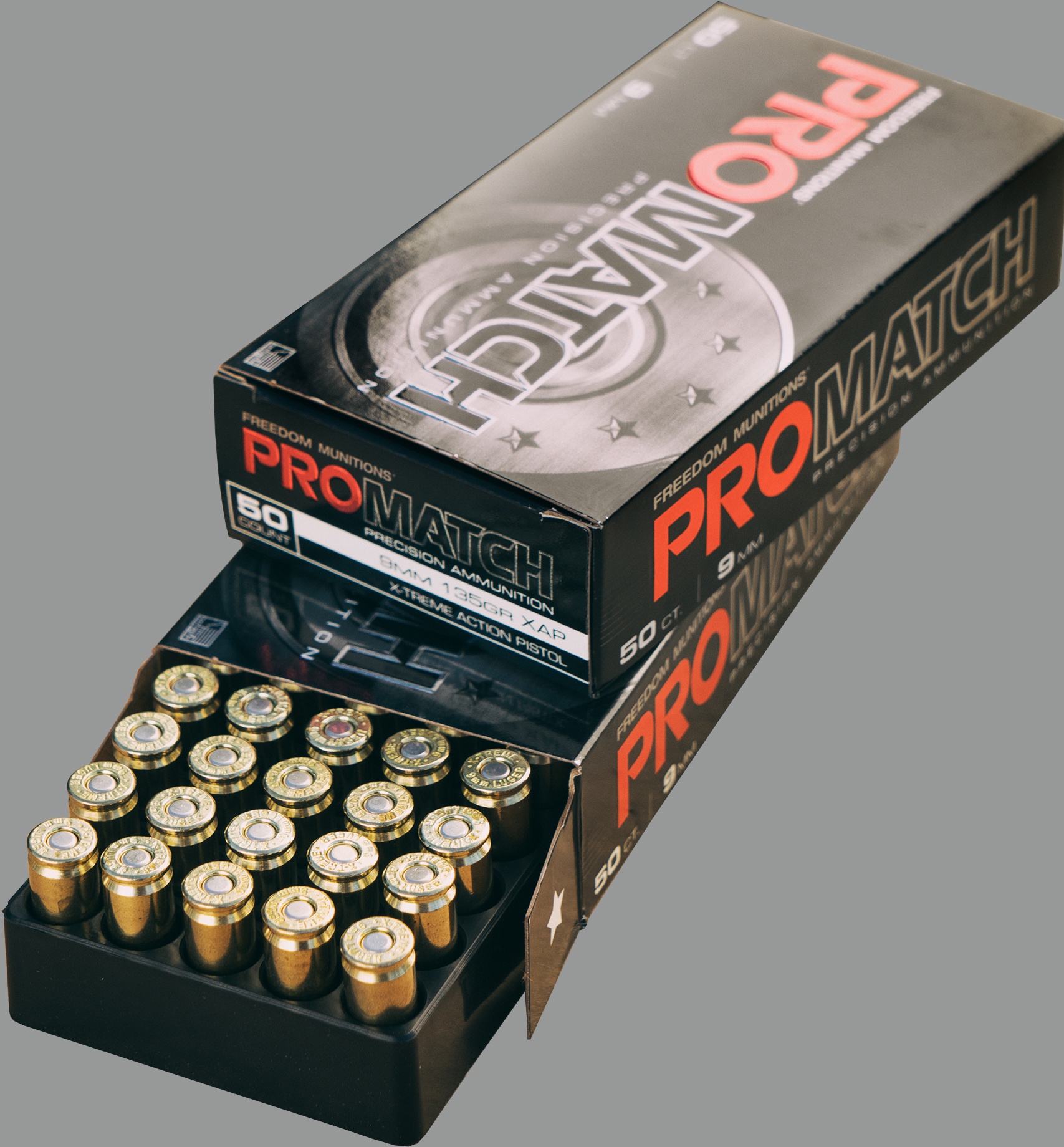 SO, HOW DO YOU WIN THIS EPIC PACKAGE OF AWESOME?
Just visit http://www.crossbreedholsters.com/Giveaways/Ultimate-Giveaway and enter your email address. You will also find additional ways to enter by supporting the participating companies' Social Media when you visit the main entry page! Do it now. If you invested this much time learning about the giveaway, you deserve a few chances to win.
The Ultimate Gear Package Giveaway entry period runs until March 31, 2017, so be sure to enter by then. And don't forget to share contest links and posts with your friends.
Good Luck!   -RJP